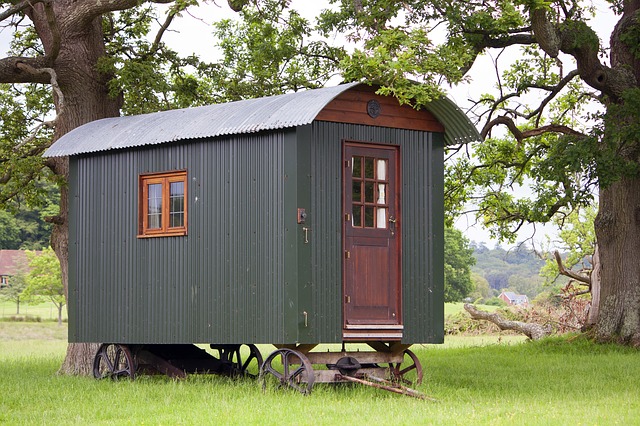 12 May 2022
How much do shepherd huts weigh?
There are plenty of factors that affect how much a shepherd's hut weighs, such as the type of shepherd's hut, the size and material of the chassis, the size of the wheels and the extra features inside. Let's take a look at the different factors that play a role in a shepherd's hut's weight.
Standard Sized Shepherd's Huts vs Larger Huts with Extra Features
At Black Sheep Shepherd Huts, the standard hut weighs between 3 and 3.5 tons on average. The weight will also depend on the particular requests of the client; for example, the huts weight will increase when the client wants extra rooms or space for his/her own bespoke needs.
The Chassis
This medieval-sounding construction is as heavy as it sounds, about 500kg heavy. The shepherd's hut's chassis is the sturdy load-bearing framework that supports all of its weight. The weight of the chassis also depends on the material it's made from, which is usually steel or wood. In our case, the wooden chassis weighs much more than our steel chassis.
The Wheels
Our standard cast-iron wheels (stub axles and hub caps included) weigh in at approximately 40 kg. Keeping those numbers in mind, let's say you have four standard 40kg wheels multiplied by four – you're literally sitting on 160kg of weight.
Other Components
Other components that can affect the hut's weight include flooring, shepherd hut frames, walls, doors, and windows.
Thinking of Buying One? How Much Does a Shepherd's Hut Cost?
When calculating the price of a shepherd's hut, there are a couple of aspects to consider, including size, specifications, materials used, and the hut builder's unique pricing. At Black Sheep Shepherd's Huts, our prices are up to 50% lower than most shepherd's hut builders but with equal value – if not more.
Entry Level Shepherd's Hut (The Weekender) Price £ 15,499 .00
The Weekender has highly attractive features and specs, quality materials, and reliable functionality. You could might pay twice the price for a shepherd's hut of a similar specification.
Specs
The Weekender features reclaimed cast-iron wheels, a stable door, three double glazed windows, feather edge cladding, laminate flooring, and a tongue and groove effect on the lower walls.
The hut is fully insulated with a breathable membrane that gives you year-round warmth and comfort. The hut is fully decorated and offers an 80-litre hot water tank and a 240V electrical supply.
Full List of Features
| | |
| --- | --- |
| Howdens Kitchen Units | Washbasin and Taps |
| Microwave | 1100mm Stone Shower Tray |
| Full-size Fridge | Sliding Glass Shower Door |
| Ceramic Butlers Sink | Thermostatic Shower Mixer |
| Two Ring Ceramic Hob | Two Ring Ceramic Hob |
| Oak Worktops | Close-coupled Toilet |
| Mixer Taps | Floor Standing Bathroom Cabinet |
| Softwood Cladding | 3 x Double Glazed Windows |
The Studio Shepherd's Hut Price £25,999
The Studio gives you a true luxury living experience with ample space (almost 40% more than our entry-level shepherd's hut) and upgraded features.
Specs
The specs include 4 double glazed windows, integrated fridge with freezer compartment, 2 single wardrobes, underfloor heating, victorian style shower\toilet upgrade, painted exterior cladding, half glazed double doors, upgraded cast iron wheels, and door and window guttering.
Full List of Features
Here are all of the stellar features included in this luxury shepherd's hut:
| | |
| --- | --- |
| Fully Insulated | Washbasin And Taps |
| Built-In Bed With Under Storage. | 1100mm Stone Shower Tray |
| 240v Electrics | Sliding Glass Shower Door |
| Howdens Kitchen Units. | Thermostatic Shower Mixer |
| Microwave. | Timed Extractor Fan |
| Ceramic Butlers Sink. | 80ltr Hot Water Tank |
| Two Ring Ceramic Hob | Floor Standing Bathroom Cabinet. |
| Oak Worktops. | Fully Decorated. |
| Mixer Taps. | Laminate Flooring. |
Contact Us
Start your journey to rustic and comfortable living in a beautiful, durable, and functional
shepherd's hut by giving us a call or sending us an email. We'd love to hear from you.
● Phone: 01953 797042 
● Mobile: 07804 921 034 
●Email: info@blacksheepshepherdhuts.co.uk