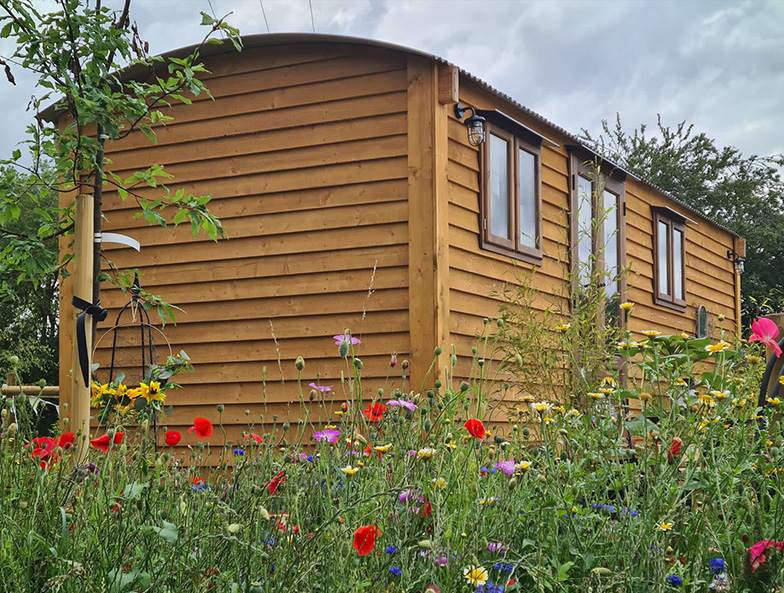 1 November 2023
What is a Shepherd Hut?
Shepherd huts have a long history in Britain, starting as a safe shelter for shepherds to rest their heads during bad weather and lambing season. Today, we know them for a very different function.
If you've spent time scrolling through Airbnb or glamping sites, you are sure to have seen these gorgeous little getaways. A shepherd hut nowadays is a wooden trailer-like structure fitted with a bed, kitchen and often a bathroom. Some offer more space while others offer less, but every style is cosy and comfortable, perfect for a relaxing trip.
So, what makes a shepherd hut so exceptional? They are sought after for both holiday and home use due to all they have to offer. There are a great number of benefits to a shepherd hut, making them the perfect option for many people looking for a special space.
What can you find inside a shepherd hut?
While all shepherd huts follow a similar structure, each design is unique in its own way. Most have space for a bed and small kitchen area, with storage space for your things and kitchen essentials. Often laid out in one or two rooms, huts are full of everything you'll need for a short or long-term stay.
Most shepherd huts today also have a small bathroom tucked inside. At Black Sheep, we design and build our huts with a toilet, sink and shower, outfitted like any en-suite you'd find in a home. We love a bit of luxury, so each fixture is of the highest quality to deliver only the best experience for our customers and their guests.
Seating areas are also common in shepherd huts today, often bathed in light from the windows to allow for blissful morning coffees and afternoons of reading in the sun. Arched ceilings can also be found in many, with wooden beams detailing them for a traditional finish. In honour of their original design and quality craftsmanship, many hut creators, like ourselves, like to keep their huts looking classic, reflecting elements of the past while bringing them into the future for us to enjoy today.
What can shepherd huts be used for?
Shepherd huts have a vast range of uses, their space and design truly makes them an incredibly versatile investment. From weekend breaks in the countryside to long-term living accommodations, shepherd's huts are idyllic for a cosy and comfortable stay.
For those building a new house, a shepherd hut in the garden makes the perfect temporary home. Creatives may be looking for a private space to write or paint, while others may use their hut to study, work, or read. Some will purchase shepherds huts for their loved ones to stay in over summer and festive holidays, and others will fill their camping ground or land with huts for visitors to book.
The uses for shepherd huts never end, as the space given can be made into whatever the owner chooses. At Black Sheep, we create luxury shepherd huts for people to live in full time, for people adding to their holiday properties, and for private getaways. No matter the reason, shepherd huts always delight its residents, quickly becoming personal corners of paradise to anyone who use them.
Are shepherd huts good for holidays?
For those not looking for an expensive beachside getaway, a shepherd hut holiday ticks all the boxes. Often nestled amongst stunning countryside, a hut stay gives visitors the chance to live with nature, a wide world of luscious greenery and dappled sunlight just outside their door.
Shepherd huts are perfect holiday destinations because they allow people to reconnect with themselves. Huts are private and small by nature, meaning guests can't bring everything plus the kitchen sink with them. Huts don't tend to have TVs, so getaways in them are often spent reading, walking and talking. Those enjoying a stay truly have a chance to feel peace away from their bustling lives, sleeping in a cosy and comfortable space that, for a short while, is all their own.
Extremely popular with couples looking for a romantic break and with friends wanting to spend time together, shepherd huts are often a first choice getaway destination. Solo travellers enjoy the comfort and quiet along with time to reflect, while hikers and twitchers love the chance to stay nestled right in the centre of what they love most. Shepherd hut holidays are for everyone looking for a peaceful pause in their usual routine.
Black Sheep Shepherd Huts
At Black Sheep, we have designed our current four signature huts with love and care, drawing inspiration from classic shepherd's huts design and craftsmanship techniques. We hand-craft every single one of our huts on-site using the traditional methods and finish them to our customers' bespoke specifications, creating the perfect shepherd hut, every time. These huts are our passion and you can find it in each and every design, every build and every finishing touch, leaving our customers with only the very best.
Whether you're looking for a private piece of solitude at the end of your garden or the perfect luxury destination for guests to book on your glamping ground, a shepherd hut is the ideal solution. If you are planning to buy a shepherds hut, you'll be making an investment that will treat you well for many years to come, no matter what you use it for. Contact us today to find out which of our huts could be that perfect fit for you.