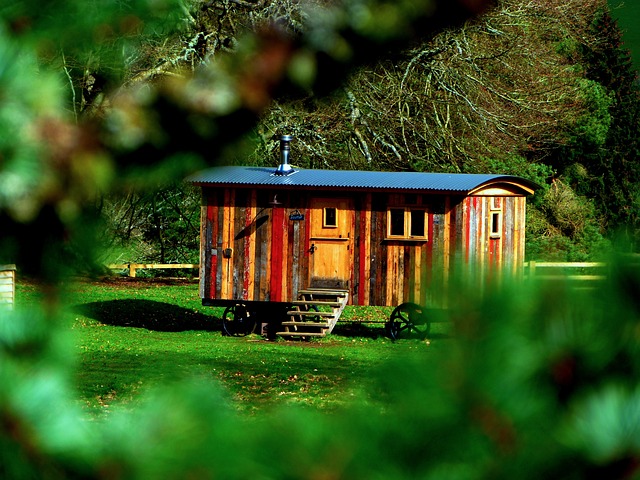 15 March 2022
Living Full-time in a Shepherd's Hut
Living in a shepherd's hut is an attractive option because they are super-easy to maintain and can be used for a wide variety of purposes. You could use it as a garden office, home office, summer house, man-cave, you name it.
Living in these small spaces full-time is most definitely possible, but it might not be for everyone. There are plenty of considerations you have to make before deciding to live in a shepherd's hut full-time.
Could you Live in a Small Space Full-time?
Whilst the idea of having all the essentials you need at arm's length can sound great to anyone, you have to be honest with yourself and consider whether you'd truly like to live condensed living space.
What's Your Social Life Like?
Are you more of an introvert who sees a few people at a time? Or are you an extrovert who loves to have plenty of people over?
Whilst you could make accommodations and have people who visit you sit outside; the shepherd's hut is quite small, private, and obviously limits the number of people who can enter your home. If this bothers you, consider using the shepherd's hut as a part-time shelter or space you use for some private time.
What's Your Family Life Like?
You've probably guessed that living solo or with a partner is the norm, but you might be wondering if a shepherd's hut is big enough for a family.
Yes, there are huts that can be extended to accommodate the size of your family. For example, the "double hut": two huts made into one.
At Black Sheep Shepherd Huts, our expert craftsmen can ensure your hut has enough space to ensure your family has enough space to live comfortably.
Do you Plan to Live With Pets?
It could be an amazing experience for you and your pet to be within or next to an outdoor space such as a forest or piece of farmland. This could be a way for you and your pet to truly feel connected to nature.
However, it would be best if your pets were small to medium-sized. Big pets could feel cramped and restricted and leave you feeling guilty for putting them in those conditions.
If done with quality materials and workmanship, shepherd's huts can serve as beautiful and functional living spaces for very long periods of time – similar to that of a traditional home.
Planning Permission for Shepherd's Huts
Whether or not you need planning permission for a shepherd's hut depends on the use of your hut, the land you decide to build on, and your local planning office's rules and regulations. For example, if you're planning to build a shepherd's hut in your garden for your own personal use, you probably won't need any planning permission. If you decide to build in outdoor space such as farmland (even your own), you will most likely need permission to do so.
Thinking of Buying a Shepherd's Hut?
Have a look at our range of very affordable (50% lower than competitors), visually stunning, fully functional shepherd huts built with high-quality materials.